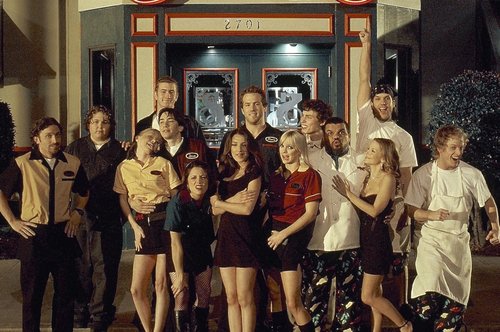 John Francis Daley (born July 20, 1985) is an American actor, screenwriter, film director, and musician. He is known for playing high school freshman Sam Weir on the NBC comedy-drama Freaks and Geeks and FBI criminal profiler Dr. Lance Sweets on the series Bones, for which he was nominated for a 2014 PRISM Award. He plays keyboards and sings for the band Dayplayer. In 2011, Daley co-wrote the box office hit Horrible Bosses with his writing partner Jonathan M. Goldstein.
Daley began acting when he was cast as "Young Tommy" in the U.S. and international tours of the Broadway hit The Who's Tommy. He played Sam Weir, protagonist of the "Geeks", in the television series Freaks and Geeks, and since then he has worked continuously in television, including series such as The Geena Davis Show, Boston Public, Regular Joe, Kitchen Confidential, Judging Amy, and Spin City. He was #94 on VH1's 100 Greatest Teen Stars.
In 2001, he co-directed a short film titled What Babies Do. He also wrote and starred in the comedy short Friday Night. In 2005, he appeared in the film Waiting... and in the Fox sitcom Kitchen Confidential. In 2007, Daley joined the cast of the Fox drama series Bones, portraying psychologist Lance Sweets. He co-wrote the season six episode "The Truth in the Myth" with his writing partner Jonathan Goldstein.
Daley was also featured in the music video for "Mercy Kiss" by Abandoned Pools.
In 2011, Daley and his writing partner Jonathan M. Goldstein wrote the black comedy Horrible Bosses. In 2013, Daley co-wrote The Incredible Burt Wonderstone with Goldstein; Daley also has a cameo in the film as a paramedic. In 2013, the two were hired to write Cal of the Wild for DreamWorks Studios. John plays Ben House in Rapture-Palooza. Daley went on to write the story for the sequel to Horrible Bosses.
Daley and Goldstein co-wrote and co-directed the 2015 film Vacation, the latest installment of the National Lampoon's Vacation film series, starring Ed Helms and Christina Applegate.
In July 2015, Daley and Goldstein confirmed that they will write the screenplay for the 2017 film Spider-Man: Homecoming.