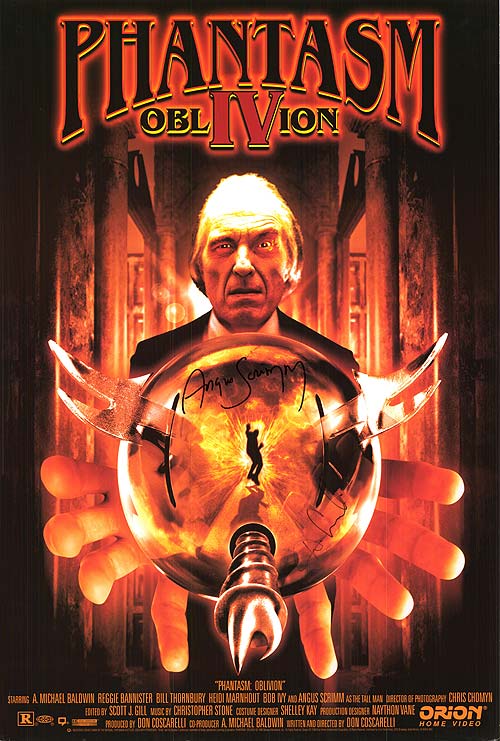 A. Michael Baldwin
Michael began acting in TV and film at the age of seven. Voiceovers for Sesame Street and The Electric Company, and guest staring roles in Starsky & Hutch and Eight is Enough are just some of his early credits.
His first major role was in Don Coscarelli's international hit Kenny & Co. Baldwin then went on to star in the legendary sci-fi horror classic PHANTASM. An important film during a watershed moment in horror/Sci-Fi history, Phantasm became a box office sensation and remains beloved by generations of fans worldwide. In international polls, Phantasm routinely ranks among the top 25 scariest movies of all time, and as it's protagonist, Mr. Baldwin has unwittingly attained cult status as an American horror icon. In addition to appearing again as "Mike" in three sequels, Baldwin also produced Phantasm: Oblivion. The latest and last installment in the franchise, Phantasm: Ravager, was released in December of 2016.
Michael has written and produced national commercials for NASCAR, WNBA, and Citigroup. His four-year tenure as a big brother with Big Brothers of Greater Los Angeles became the inspiration for "Drive By," a short film that he wrote, produced and directed. He wrote and co-starred in the comedy "Vice Girls," for Roger Corman's company Concord/New Horizons. His award-winning book Sleep Achiever (Pequeño Press) can be found as a permanent part of the Getty Museum Center Special Collections Library.
In 2017 Neighborhood Publishers released his children's book, Love Always Wins: Or, How I learned to stop worrying and just pick up after myself.
Coming soon Baldwin stars with Elle LaMont and Violet Beane in Eric Pham's "Flay."
He is currently at work on his first novel.